The Great Ball Is The First Episode Of SASASAWBK
Macey And Cam Are Eating Egg Salad , But They Hear Is AiAi And His Family Running In The Ball , While They Almost Both Got Crushed , They Both Meet AiAi , They Tell Macey And Cam To Go On A Monkey Ball Testing Convention , Macey Try Out A Pink Ball , Cam Uses A Bubbler Because It's Her Favorite Special Weapon Since One Year Ago , Meanwhile Ryo Hazuki And His Little Sister Patrica (Aka Paper Pat) , Are At The Convention Looking For Macey And Cam , Sonic Guided Ryo And Pat Along With Billy hatcher And His Fan Kirby Krisis (TRC-Tooniversity) , Meanwhile...They Found Macey And Cam , Macey Said That The Monkey Ball Was Great , Paper Pat Invented The BubbleBall , She Was Testing Out The BubbleBall , She Thinks It Was Going To Be Sucess , Meanwhile At The Monkey Ball Track , AiAi , Cam , And Macey Are Riding On A Monkey Ball , Paper Pat Was Riding A BubbleBall , Macey Was Dodging Thinking That She Was Not Afraid Of Hights , Cam Was Running With A Bubbler , She Thinks It Was A MonkeyBall But Caught By A Monkey Cop , Giving Her A Ticket About A Bubbler , AiAi Was Also Dodging , Paper Pat Almost Got Motion Sickness , Letting Her Fall Into Accident , The BubbleBall Popped Her Open , Leaving Her Dizzy And Caught By Ryo Hazuki , He Said That The BubbleBall Is The Worst Pun That Did To Her , Sticks Saying That Cam Got A Ticket About A Bubbler , Sticks Is Talking To Banjo Kazooie About What Happened To Cam , She Was Caught By The Shadow Saying To Stop Fallowing Her , Macey Was In First Place , And AiAi Was In Second Place , Macey Found Cam , Cam Was In Third Place , Making Them A Three Way Tie , They Are Rewared Golden Bananas , Paper Pat Was Not In Fourth Place , But She Was Caught Cheating , Ryo Hazuki Said That She Will Try Out A Monkey Ball Instead , Leaving Her Saying That She Will Try
Characters
Edit
Main Characters
Edit
Macey
Cam The Inkling
AiAi
Ryo hazuki
Paper Pat
Supporting Characters
Edit
Sticks The Badger
Sonic
Billy Hatcher
Kirby Krisis (Guest Star)[1]
Kirby Krisis Is A Guest Star , See Him On Deviantart![2]
This Episode Focuses On AiAi From Monkey Ball
Techinal Difficulties
Edit
While Macey Is Running On A Ball , Her Oregon Ducks Sweater Is Red
While Cam Is Running In A Bubbler Before It Popped , Her Ink Color Is Yellow
The Golden Banana Is Received To AiAi Macey And Cam , Cam's Shirt Is Black Instead Of White
Running Gags
Edit
Macey And AiAi Running On A Ball
Cam Running On A Bubbler Before It Popped
Cam Running Backwards On A Bubbler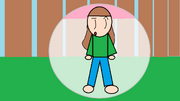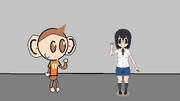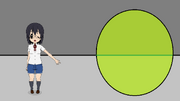 Ad blocker interference detected!
Wikia is a free-to-use site that makes money from advertising. We have a modified experience for viewers using ad blockers

Wikia is not accessible if you've made further modifications. Remove the custom ad blocker rule(s) and the page will load as expected.